World War I: The Great War
One of the features of courses offered by the Center of LifeLong Learning (CLL) is the opportunity for unique class format and content.
A recent CLL course was "World War I: The Great War," presented during the fall semester of 2021. The course stressed several lesser-known aspects of the conflict, including portions of the American Expeditionary Force that were involved in the Russian Civil War. U.S. troops were in Northern Russia until July 1919, and in Siberia (extreme Eastern Russia) until early 1920. The course also covered the (initially secret) 1916 Sykes-Picot Agreement, which played a role in shaping current-day Middle Eastern borders. The agreement was between the United Kingdom and France, but had the assent of Russia and Italy.
The course instructor was Robert Anzuoni, director of the U.S. Army Signal Corps Museum at Fort Gordon, near Augusta, Georgia, and a veteran of the U.S. Army's 82nd Airborne Division. The first class session covered the French and German political and diplomatic situations, military strategies, available resources, and mobilizations at the beginning of the war. Anzuoni invited two guest speakers, French Army Lt. Colonel Nicolos Pierson and German Army Lt. Colonel Sascha Blankenburg, to provide in-depth historical information and insight on these topics from the viewpoints of their respective countries. Lt. Colonels Pierson and Blankenburg, who are good friends, serve their nations as military liaison officers to the U.S. Army Signal Corps. Both are currently stationed at Fort Gordon.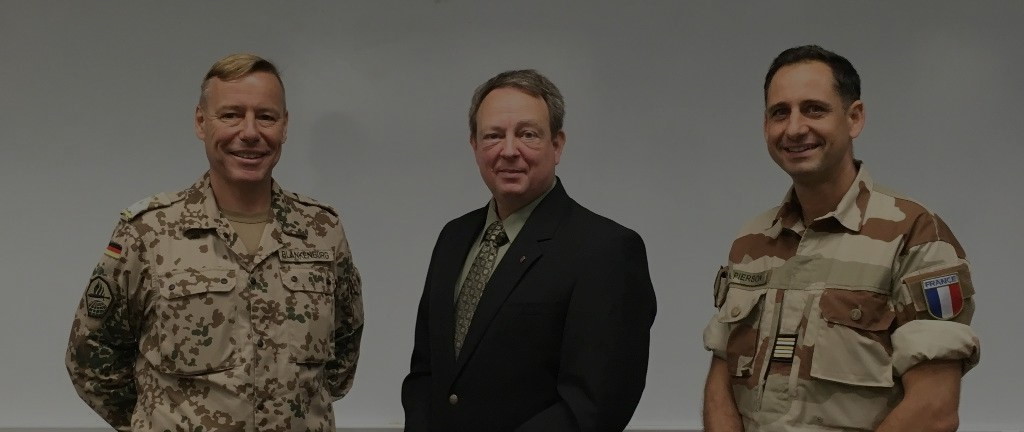 ---
Thanks to Carl Fields for this article and photo. Carl is the Class Liaison for this course. Liaisons are volunteers and coordinate the logistics of a class and ensure that instructors have all they need to present their courses. In doing so, they get to meet and work with interesting people. If you would like to volunteer with us, please let us know at vol@aikenlearning.org